Nokia Health Mate™ アプリでは、アクティビティ目標の達成やそれを上回る成果に、ソーシャルな側面を取り入れることで、モチベーションの維持に貢献します。お友達やご家族をリーダーボードに追加して、毎週ごとに誰が一番たくさん歩いたか競争することができます。Nokia 製品をお持ちでなくてもかまいません: スマートフォンのハードウェアを用いて歩数をカウントできるアプリ内のトラッキング機能により、Nokia Health Mate™ アプリが、ご使用のスマートフォンにインストールされているかぎり、どなたでも追加可能です。
この機能は、アカウントのメインユーザーのみがご利用いただけます。

Adding someone to your leaderboard
You can invite people to join your leaderboard. To do so, perform the following steps:
In the Nokia Health Mate™ app, go to Leaderboard.
Tap ....
Tap Challenge a friend.
Select how you want to send your invitation.



Several options are available, such as message, email or social media websites.
Interacting with someone in your leaderboard
Once you have friends in your leaderboard, you can interact with them by tapping
their name and selecting one of the three actions available:
Cheer to encourage them,
Flaunt to show off,
Message to chat with them.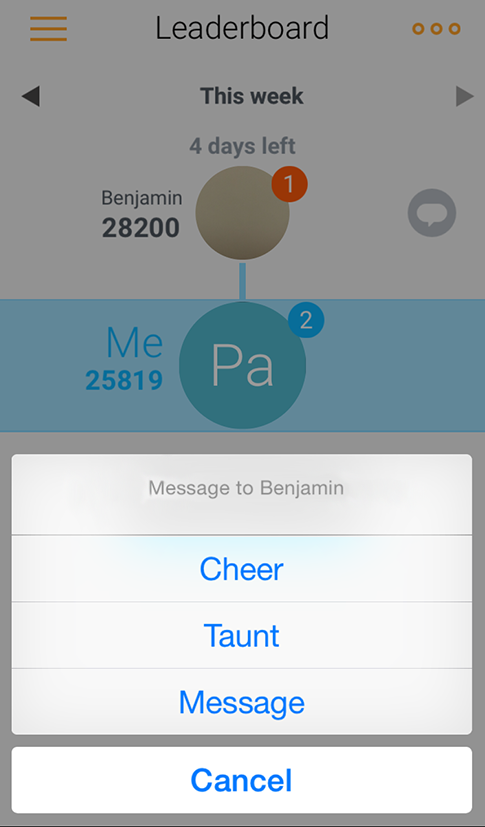 Adding a social component to your activity tracking is a great way to stay motivated
and push your limits.